Teacher
Mrs Mitchell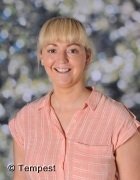 Name: Mrs Mitchell
Likes: Eating out with family/friends and animals
Dislikes: Bad weather.
Hobbies: Going to the gym, mountain biking, walking and reading
Favourite film: Toy Story or anything Disney
Favourite book: Matilda or anything by Roald Dahl
Favourite food: Anything! I love food
Favourite subject: Sport
If you weren't a teacher what would you be and why? A travel writer because I like travelling the world and I'd like to share my experiences.
Hero/heroine: Guy Martin
We made some love bugs for Valentine's Day.
We had a lovely time eating pancakes on Tuesday!
In Maths with Mrs Gould we ordered the Russian dolls in the correct size order.
Look at our water colour polar bear pictures we made when we learnt about the Arctic.