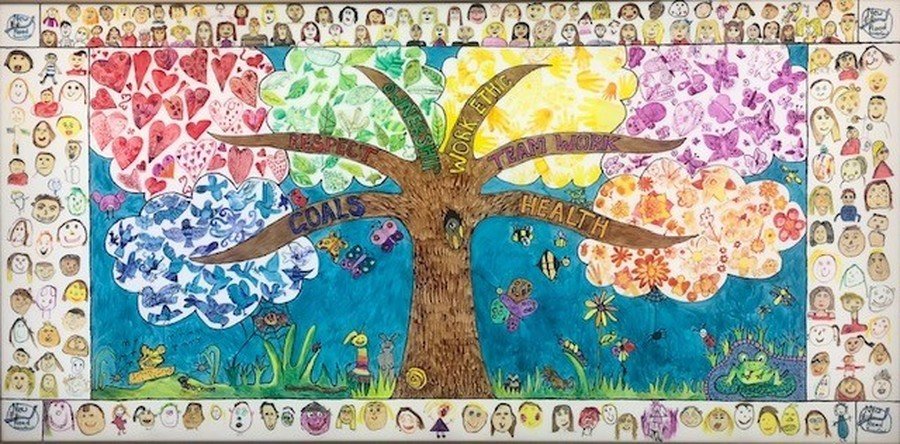 New Road Primary School Vision & Values
At New Road Primary School our vision is to empower all children to fulfil their true potential through excellent education provision that inspires academic success and nurtures whole-child personal development. Within a safe, happy and stimulating environment, children are inspired and their individual achievements and effort, celebrated.
In school, we use G.R.O.W.T.H to express our core values and outline the culture we expect all our school community to demonstrate. Everything we do will be in the spirit of New Road Growth.
Goals: We commit and strive to achieve both personal and set targets in all that we do.
Respect: We place a high regard for the feelings, wishes or rights of others, treating everyone and everything with care.
Ownership: We take responsibility for our actions and feel empowered to make decisions that result in positive outcomes.
Work Ethic: We believe it is important to try our best, build resilience and commit to our learning.
Teamwork: Listening, sharing and respectfully working together makes us stronger. We all make positive contributions.
Health: We promote the importance of both physical and mental wellbeing, we are active learners supporting engagement in our learning.
GROWTH in our learning brings out the best in us all
British Values
At New Road Primary School we are committed to serving our community. We recognise the multi-cultural, multi faith and ever-changing nature of the United Kingdom. We understand the vital role we play in ensuring that groups or individuals within the school are not subjected to intimidation or radicalisation by those wishing to unduly, or illegally, influence them.
We follow equal opportunities guidance which guarantees that there will be no discrimination against any individual or group, regardless of faith, ethnicity, gender, sexuality, political or financial status, or similar. At New Road we are dedicated to preparing pupils for their next stage of life beyond the formal examined curriculum, ensuring that we promote and reinforce British values to all our pupils.
The Government emphasises that schools are required to ensure that key 'British Values' are taught in all UK schools and set out its definition of British values in the 2011 Prevent Strategy.
The five British Values are:
Democracy

The rule of law

Individual liberty

Mutual respect

Tolerance of those of different faiths and beliefs