Teacher
Miss Ashton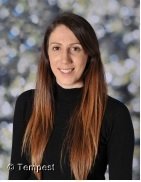 Teacher Profile
Name: Miss Ashton
Likes: I love seeing friends and family, nice weather and holidays.
Dislikes: I dislike the rain and getting lost.
Hobbies: I like exercise, cooking and going for long walks.
Favourite film: All of the Harry Potter films
Favourite book: All of the Harry Potter books
Favourite food: Vegetarian fajitas
Favourite subject: Maths
If you weren't a teacher what would you be and why? I would love to work in a zoo as I really like to be around animals. I don't think I would be brave enough to work with the lions and tigers but it would be nice to look after penguins or elephants.
Friday 22nd January
Our lockdown learning champions this week are Chloe and Betsy. Both girls have worked very hard this week and I am especially impressed with their fantastic writing in our literacy lessons. Keep up the super work girls!
Friday 15th January
Our lockdown learning champions this week are Sam and Paige.
On top of joining me for our live lessons and completing all of the tasks that I have set Sam decided to do even more work this week by completing extra art work. Well done Sam!
Paige always works very hard in school and I am over the moon that she is completing her tasks to the same very high standard at home. Thank you for working so hard Paige!
Autumn 2 half term newsletter
We created some beautiful Autumn poetry during our first week back at school.
We made some disgusting sandwiches. We didn't like them as you can tell from our faces.
We collaged each continent using photos of places, building and animals from the continent. We are now much more confident in identifying the continents,