Teacher Profile
Mrs Mitchell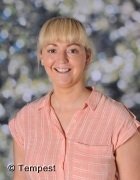 Name: Mrs Mitchell
Likes: Eating out with family/friends and animals
Dislikes: Bad weather.
Hobbies: Going to the gym, mountain biking, walking and reading
Favourite film: Toy Story or anything Disney
Favourite book: Matilda or anything by Roald Dahl
Favourite food: Anything! I love food
Favourite subject: Sport
If you weren't a teacher what would you be and why? A travel writer because I like travelling the world and I'd like to share my experiences.
Hero/heroine: Guy Martin
Support Staff